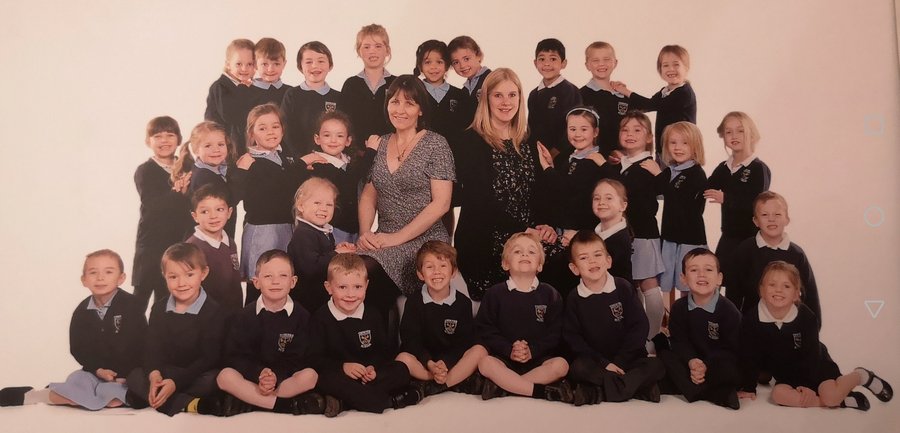 Our School Uniform
Our school uniform adds to our sense of community and is as follows:-
Navy or grey skirt, pinafore dress/trousers/uniform shorts/culottes.

White or pale blue shirt/polo shirt – (optional with school logo).

Navy blue sweatshirt, jumper or cardigan – with original Thorner logo & Elevate Logo. Girls may also wear navy
and white or blue and white gingham/striped dress in Summer.

Grey, navy or white socks / tights.

Sensible and comfortable, flat-soled outdoor black or navy blue shoes.

Bag - KS1 Slim Logo'd book bag (can be purchased from the school office for £5.00) / KS2 Logo'd book bag or back pack.
Please ensure that hair is suitably cut for school. Shoulder length hair should be tied back away from the face with a suitable plain hair band.
Jewellery is not allowed to be worn at school except subtle earrings (e.g. one stud in each ear). Exceptions may be made due to religious reasons – please check with a member of staff.
We provide all stationery (including pencils, pens, rulers and rubbers) for children across the school – see the weekly class routines section in each classes' induction booklet for details on whether children may bring any of their own equipment.
P.E./Games
P.E. uniform consists of:
Navy blue shorts & white T-shirt.

Pumps/indoor trainers for indoor work and trainers for outdoor lessons (please note that when you child starts in Ash class they do not need a separate pair of trainers to start with).
Please ensure that children come prepared for P.E. lessons – their kit should be available throughout the week and taken home on Fridays to be washed. Please send in your child's P.E. kit to school in a draw–string bag. There is insufficient room in the cloakroom to accommodate large bags.
Ear studs and watches must be removed for P.E. For this reason please avoid having your child's ears pierced during term time and if possible have them done at the start of the summer holidays. Security of ear studs is the responsibility of your child.
School uniform can be purchased from either:
17 North Street
Wetherby
LS22 6NU
Telephone : 01937 589 422
Tel: 0800 069 9949
We get a 5% cash donation to our school for all sales through this website.

Please help us by naming all items of clothing - NO MORE LOST PROPERTY!!
We are excited to announce that we have teamed up with Stikins to offer parents the opportunity to purchase quality labels for your children's school uniform, whilst earning the school commission at the same time! We get 30% commission for all sales, please QUOTE FUNDRAISING NUMBER: 23569
To order please click on the logo below, call 01270 668076 or pick up a leaflet from the school office.
Lost Property
Lost property is kept in baskets in the cloakrooms and i the school office from where it may be claimed. The contents are displayed periodically. Any unclaimed items are collected by a recycling service. Please help us to return lost property by naming all items of uniform & PE kits.
Mobile Phones
Mobile phones/devices are not allowed in school unless we have received a written request from a parent stating the exceptional circumstances in which their child needs to have one in school that day/week. If permission has been given for one to be brought into school, they should be handed in to be kept in a safe place during the school day by the relevant class teacher.