All our school meals are freshly prepared on-site by our catering team. They use regionally produced fresh meat and poultry, fruit and vegetables from suppliers based in West Yorkshire providing local and regional produce when in season and also free range eggs from East Yorkshire.
Catering Leeds Meal Service provides our school meals. Since December 2015 all school meals are required to adhere to the School Food Standards. All of our menus are checked to ensure they meet these government requirements. For more information download the full School Food Standards document.
Since September 2014, all children in Reception, Year One and Two are entitled to a free school meal. For children in key stage 2 meals are priced at £2.50 per day. Parents are billed & pay for their child's meal on Parent Mail.
Please note we are a nut free school.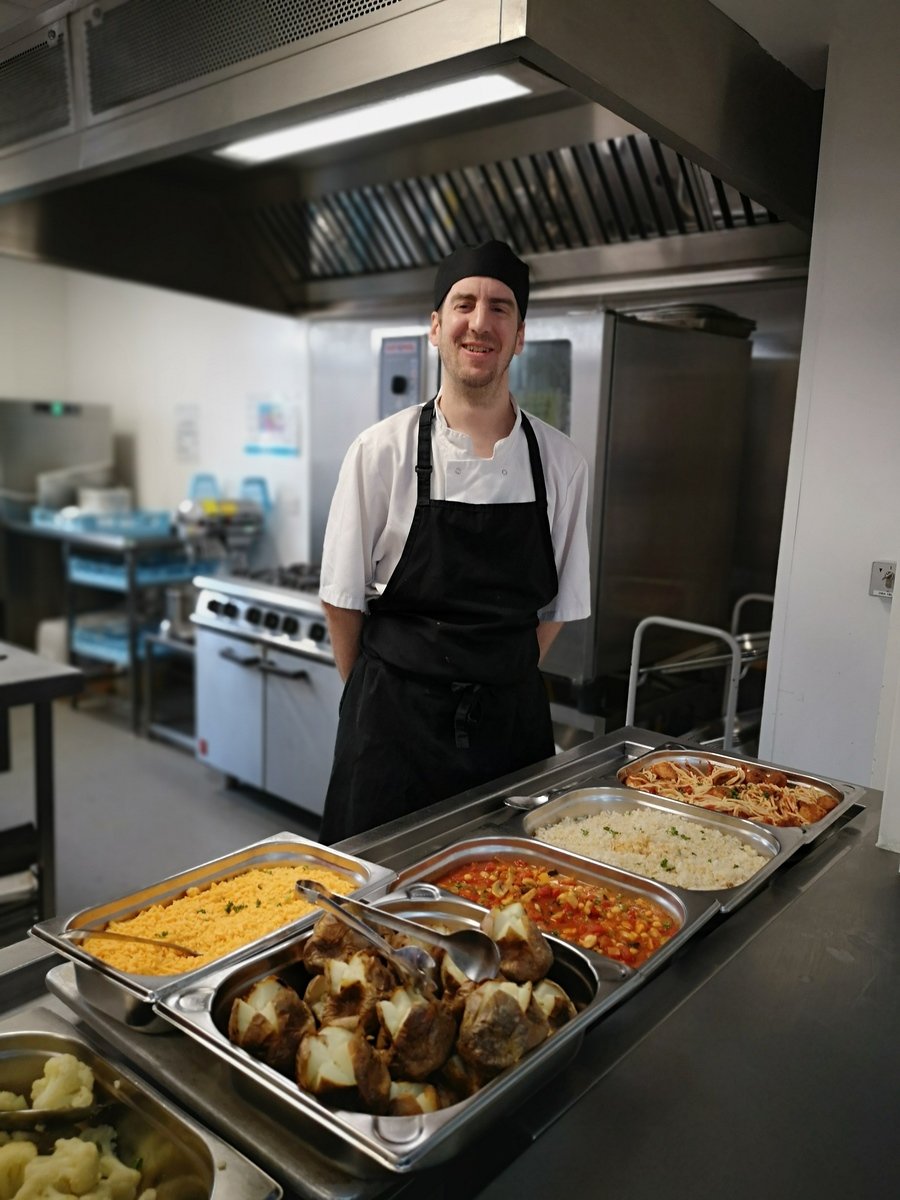 Catering Leeds design the school menus to meet the varied and cultural needs of pupils and tailor menus to suit the unique requirements of each school following their individual specification.
Food is healthy, nutritious and designed with children and young people at heart. Catering Leeds work closely with our key suppliers for fresh fruit, fresh vegetables and fresh meat to ensure that the produce on the menus is of the highest quality with complete traceability.
Our school menus follow a three week cycle of menus which are revised each term to ensure variety and to make the most of seasonal produce, grown locally.
UK Farm Assured chicken, lamb, beef and turkey

Free Range Yorkshire Eggs

Responsibly caught and sustainable salmon and white fish

Dolphin friendly tuna

Local, seasonal fresh fruit and vegetables

We work to ethical trading standards and supply Fairtrade products where available and appropriate e.g. bananas and dry goods such as sugar and cocoa
All our produce is GMI free, has no hydrogenated fats and no artificial colours.
Free School Meals
Statutory free school meals are available to children whose parents are in receipt of one or more of the following benefits:
Income Support, or

income-based Job Seeker's Allowance, or

income-related Employment and Support Allowance, or

the guaranteed element of Pension Credit

Universal Credit, if you apply on or after 1 April 2018 your household income must be less than £7,400 a year (after tax and not including any benefits you get)

support under part V1 of the Immigration and Asylum Act 1999, or

Child Tax Credit, if you have an annual taxable income (as assessed by H M Revenue and Customs) which does not exceed £16,190

if your child is eligible for free school meals, they'll continue to receive them until they move to a new stage of school, such as from primary into secondary school
Where parents are entitled to working tax credit during a four week "run on" period immediately after their employment has ceased, or after they have started to work less than 16 hours per week, their children are entitled to free school meals.
Children who receive income support or income based jobseeker's allowance in their own right are also entitled to free school meals.
If your child is entitled to a Statutory free school meal, then it's important you claim for it even if they are in Reception, Year One or Year Two and already receive a free school meal. This is because the school will receive additional funding for your child that will be used to support their learning and development, including payment for trips and activities and extra intervention sessions.
To claim free school meals here.